Weekend Wine Tastings
Love new wines?  Come swirl, sniff and sip on a featured wine. See schedule below.
Brewery Samplings
Come and hang with your favorite brewery on a new exciting brew hitting the shelves.
Spirits Tastings
Stop on in on the weekends, featured cocktails are the best way to experience a new flavor of fun.
Big Holiday Events
Come join our big holidays tasting with over 100 wines from around the world.
Upcoming Events in Dunedin Store
Oktoberfest- October 10th
Date: October 10th through 13th
Time: 12 pm til 9 pm
Location: Luekens Dunedin, 1410 Main Street, Dunedin, FL
Featuring beers will be Ayinger, Hofbrou, Sierra Nevada/Bitburger Oktoberfest collab, Warsteiner, Hacker Pschorr, Shiner, Erdinger and, Big Storm ECT.
Food served will be German Bratwurst, Potato Pancakes, and Red Cabbage.
You will be able to get a Flight of 8 Oktoberfest Beers, a plate of German food, and a take home Oktoberfest themed glass for $20!!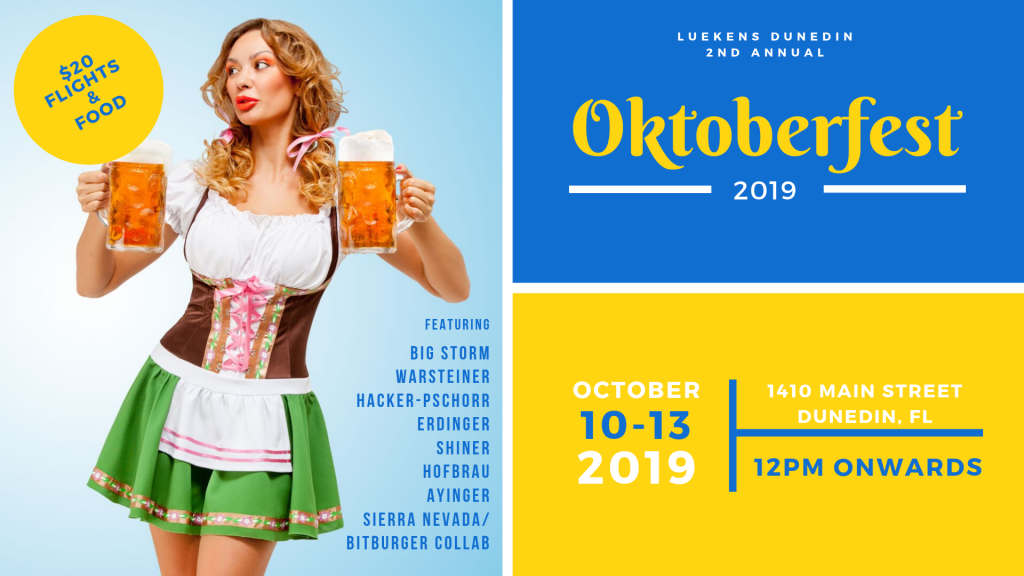 Like us on Facebook or Instagram to receive special wine events offers.